Summary
Ultra PDF Merger is a freeware PDF utility that joins your PDF files, or part of them, together. It is a windows application and it runs on both 32bit and 64bit systems. Ultra PDF Merger is portable which means you don't have to install anything, just download it, extract its content and run it. In this way you can put it in your USB drive and use it anywhere.
What's New
There are two changes in this version. The most important is that you can choose the pages you want to merge by choosing the starting and the ending page. The second change is that the check for two or more files has been removed. You now have the option to "merge" only one file.
How to use it
Add files: You can add the file(s) you want to merge using the Add button. You can select multiple files to add if they are in the same folder. Do not add locked or password protected files because merging will fail. You can also add the same file more than once.
Remove files: Select the file you want to remove from the list and press the Remove button.
Change file order: Select the file you want to move and move it by pressing the Move Up (Up arrow) or Move Down (Down arrow) buttons.
Select specific pages to merge: If you want to merge specific pages from the file change the from and to numbers. If you leave 0 the program will ignore it.
Examples:

From 0 To 0 will merge all the pages of the file
From 0 To 10 will merge the first 10 pages
From 3 To 5 will merge pages 3, 4 and 5
From 3 to 0 will merge all pages except the first 2

Merge files: Press Merge button to merge selected files.
View program info: Press About button to view program info such as the version number.
What's new in version 1.3.2
In version 1.3.2 there is a new button to clear file selection (remove all files). Drag and drop functionality is also added to this version. You can now drag the PDF files from explorer and drop them to Ultra PDF Merger for easier file selection.
Screenshots
Screenshot was taken in Windows 7 environment and may differ in your system. Also the title bar has black and white because the background image is a tiger (from tiger and dragon).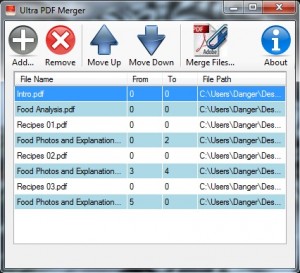 Requirements
Windows XP, Vista, 7, 8
Download
The download file is an archive file (.rar) and you will need WinRAR or 7-Zip to extract the its content.
Older Versions
Awards

FindMySoft reviewed and rated Ultra PDF Merger with 5 out of 5. Visit them to read the review or watch the quick video they created.